ONGOING PROJECTS 2022/2023
A new project starts. An extract just presented in  September 2023. Rehearsals in january 2024,La Girandole Montreuil
next dates October 29 th, December 9 th and december 21 st Le Sample Bagnolet,Academie du climat,#concertclandestin Montreuil
A mix of rap, electro and poetry
from the trilogy "Medea's visions", "Oreste will be back" and "Sibyl sessions"
NEW ALBUM RELEASE: Oreste Will Be Back by Phil St George
Sibyl Sessions, the third part of Kulturscio'k Live Art Collective's trilogy, premiered this past June at Museo della Moda in Naples.
After the success of these debut performances, Kulturscio'k has been bringing Sibyl Sessions to Naples' Cuma Archaeological Site and in different unconventional spaces.
To stay up-to-date with our performances, follow @sibylsessions on Instagram
The second part of our trilogy, Oreste Will Be Back, has been  performed at Naples Museo Madre.
From June 23rd to 24th 2023 in Kulturfactory
Installation Performance Live Music
A site-specific installation with music sound art
New Workshop 11th to 19th of  October 2023 
From literature to social – media
performing and creating new works from literature to stage and short videos
MASTERCLASS :
for actors, dancers, directors
from 11th to 19th of  October 2023 in Montreuil
For further information contact us on kultursciok@gmail.com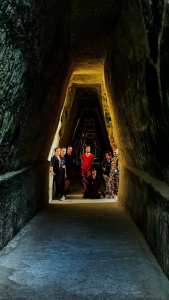 Photo © Giovanni Ambrosio
Italy
France
+33 (0) 642811630
Artists willing to stay and create, we offer the possibility to apply for a few days artists residency in our factory space in Domicella. Projects having something very urgent to explore and something very powerful, are welcome to apply for the residency; please write us at : info@kultursciok.com